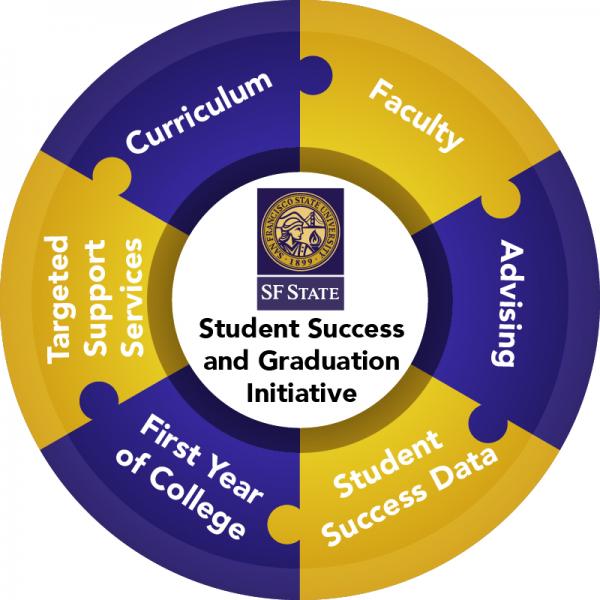 Our campus strategy to increase course availability includes three components:
Course Availability and Curriculum
Our campus strategy to increase course availability includes three components:

data-informed analysis of student course demand to enable effective curricular planning;
a fully funded curriculum, including increased funding for lecturers, GTAs and tenure-line faculty to teach required courses in high-demand major and general education requirements; and
support for programs to analyze and restructure their curriculum and course pedagogy—with a special focus on prerequisites, requirements, quantitative reasoning and electives—in order to reduce students' excess unit load and advance their progress to degree, academic achievement and success.
 

Advising
The second-most identified barrier to timely graduation, according to the senior exit surveys, is inadequate advising. In response, Academic Affairs conducted an operational review of advising in 2015-16, which utilized student surveys, focus groups and analysis by external consultants. We are preparing to implement a number of improvements including:

hiring new advisors in both the central Undergraduate Advising Center (UAC) and the college-based resources centers;
conducting a review of advising that takes place in other administrative units;
raising funds to renovate the existing UAC to be a more accessible and welcoming space for our students;
implementation of a data management system to facilitate more strategic, case-management-based advising; and
proactively identifying students in need of assistance earlier in each academic term. 
 

Student Success Data
Our plan to develop a more strategic advising system necessitates a responsive, accessible platform that makes student success data available to departments, colleges and the central administration in order to monitor and address student degree progress. Data will be captured in "real time" and longitudinally by:

class cohort, to track impact of large scale interventions over time; 
targeted student communities, to ensure that we close and keep closed any opportunity gaps;
major/program, to ensure ongoing curricular and co-curricular improvements are achieving intended goals and outcomes; and 
courses/sections, to help improve teaching and learning outcomes.
 

First Year of College
SF State experiences its highest levels of attrition in the lower division, when 34% of our beginning FTF students leave without a degree before beginning their junior year. In order to increase retention rates, we plan to:

expand academic and social engagement;
assist students in identifying appropriate majors;
reduce health and wellness barriers; and
increase student success in the first year.
 

Targeted Support Services
To enhance our capacities to improve student engagement, new personnel resources needed include but are not limited to:

expansion of Metro academies across the campus;
tutoring, particularly in writing and math;
supplemental instruction aligned with high failure-rate courses;
health, including mental health, and recreation professionals to improve student wellbeing, decrease stress and increase active learning capacities;
a first-year faculty director to collaborate with the FYE director being hired in Student Affairs and Enrollment Management; and
faculty resources to teach first-year seminars and meta-major courses. 
 

Faculty Hiring and Development
If SF State can accomplish any of our SSGI goals, we need to:

maintain an adequate number of faculty to support the curriculum;
provide the professional development neccessary to support student learning and retention efforts; and 
implement a hiring strategy that targets bottleneck courses and highly enrolled major programs.